BOOK DISCUSSION
Half Bad, Half Wild, Half Lost
(Half Bad Trilogy)
by Sally Green
Summary of Half Bad from Goodreads:
Sixteen-year-old Nathan lives in a cage: beaten, shackled, trained to kill. In a modern-day England where two warring factions of witches live amongst humans, Nathan is an abomination, the illegitimate son of the world's most terrifying and violent witch, Marcus. Nathan's only hope for survival is to escape his captors, track down Marcus, and receive the three gifts that will bring him into his own magical powers—before it's too late. But how can Nathan find his father when there is no one safe to trust, not even family, not even the girl he loves?
>>Expect spoilers.
My need to read surged up again. So I decided to pick this book up from Overdrive. I have heard that people either loved or hated the book but I wanted to give the book a chance to create my own opinions.
I adored this series. There is just something about it I can't quite put my finger on.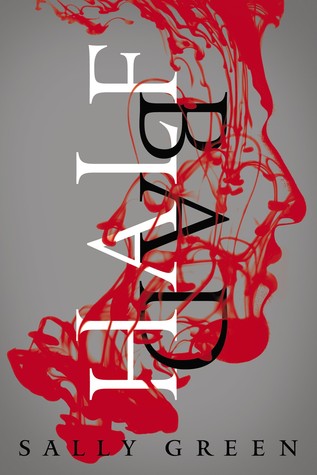 I really did not know what to except when I opened Half Bad. The book was different from the vague recollections of the summary that I had in my head from all those book hauls I watched on YouTube. This series is told through Nathan's, the main character, perspective. "Half Bad" starts off when Nathan was eight and we follow him as he grows up in the White Witch community. There is a lot of violence involved throughout the series and some mild gore scenes throughout the series.
While reading I grew to empathize with Nathan. I remember feeling as if the world was against me, but in his instance the world is very against him. I was grateful that there love in Nathan's household (and that Jessica left earlier on) or he would have grown with hate in his heart. I remember not liking Annalise from the start mainly because it felt find of instalove-like. I was willing to give her a chance but as I progressed with the series I felt as their relationship was one of those doomed first loves where both parties were too young to handle the burden their love represented. Then once they're older and settled down in their life and meet each other years down the line they can reminisce about their history together. I was willing to give so many chances for their relationship throughout the entire series though because I really wanted Nathan to be happy.
Then Nathan met Gabriel.
I was so grateful that Nathan met Gabriel. Gabriel took the time to know Nathan and could understand the persecution directed at Nathan. I thought this was the start of a wonderful bromance since I don't see much of it. (Thinking back, they did remind me of Will and Jem's relationship.) I'm not sure if I missed all the signs, but when Rose blurted out Gabriel's feelings towards Nathan I was pleasantly surprised. I did want them to be together; however, I wanted to see how Nathan and Annalise's relationship would play out. I would have been fine if Nathan and Gabriel ended up together or if they ended up with a nice bromance.
In Half Wild Nathan starts learning to control his gift is and Gabriel was also able to get out of his fain body. I was surprised to see what Gabriel's gift was, but also how well he was at it (unlike Jessica).
Nathan and the crew were able to rescue Annalise from Mercury and he joined the Alliance to bring order back between Black and White witches. Gabriel was always the voice of reason though. His wariness of Annalise made sense after he explained his reasons to Nathan. Even I started being wary of Annalise, but I was still willing to give her the benefit of the doubt.
When the Alliance successfully proceeded with their plans I cheered, but when there was a setback I lost morale. When Nathan's father, Marcus, joined the Alliance I was happy for Nathan because he always wanted to be with him. With Marcus around Nathan starts getting more in tune with his Black Witch side which brings tension to his relationship with Annalise. When Annalise killed Marcus I couldn't find any way to rationalize her actions anymore. I did think Marcus' death was anticlimactic because I imagined him as this immortal being in my mind. I was reminded that he was human though, a notorious and powerful Black Witch, but human.
Half Lost was the conclusion where the Alliance would confront Soul and end his rule. Nathan starts learning to control and use the gifts bequeathed to him after eating Marcus' heart. Nathan and Gabriel's friendship was also able to grow. I loved that they confronted each other when they were angry, and that they also put in the effort to talk to each other, heart-to-heart to repair their relationship. Nathan progressed a lot as a character as he is confronted with his emotions and all the events he was thrusted into.
There were so many deaths and I wasn't ready for some of them. Especially Gabriel. I cried. Then when it jumps to Nathan seeing Gabriel swimming I was so happy thinking that Arran got there in time and they would get their happily ever after. Then I realized Nathan was just imagining him. I cried some more. When Nathan becomes a tree right next to Gabriel. I just continued crying.
It was so unfair for Nathan. I really wanted him to be happy after everything he went through. However, they were fighting against experienced Hunters. I did get a sense of foreboding when Gabriel just got light cuts here and there and the curtains didn't close yet. Regardless, I thought the ending was beautiful given all the events that occurred. Everything came full circle in the end and I got my closure. Nathan is finally living a life of peace with Gabriel.
When reading the series, I felt as if the story just got better and better. This was a wonderful start to the 2018 year. I will definitely purchase a physical copy of the series for my shelf.  I am looking forward to reading more of Sally Green's works.
Ratings:
Half Bad    ★★★✬
Half Wild  ★★★★✬
Half Lost   ★★★★★
Entire Half Bad series

---
after words
For some reason, while reading the series the setting was not a modern-setting but a medieval-esque setting. So there was some dissociation when there was anything modern included and I always had to remind myself of the setting.
While there is technically a love triangle I just couldn't find it annoying (like I usually do) because I found a way to rationalize some of their actions.
When I learned of Edge I was a bit confused. Did this happen back at Mercury's place? I think I completely skipped over that or just imagined them actually sleeping together when they were alone in the room…Woah,  I'm dense.
When I finished Half Bad I immediately went on Overdrive to see if the other two books were available. They were available so I immediately downloaded them and continued reading. Then when I finished "Half Lost" I remembered seeing the novella's on Barnes & Noble and went there to purchase them. Reading more of Gabriel just reminded me tear up.
A few days after finishing "Half Truths" I needed more of the world so I looked at Sally Green's page on Goodreads and read some Q&A's to hopefully answer some of my questions. Then I found out that she will have a new series out this spring 2018. I can't wait for The Smoke Theieves mainly to see how she will develop her characters.
Read in January 2018